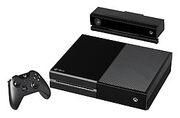 The Xbox One is Microsoft's third gaming console, successor to the Xbox 360. It was launched on November 22, 2013, 8 years after the Xbox 360. It features an improved CPU, better graphics, and even more advanced online capabilities than the Xbox 360. It directly rivals Sony's PlayStation 4  and Nintendo's Wii U in the eighth generation of console gaming.
Grand Theft Auto Games on the Xbox One
Edit
Ad blocker interference detected!
Wikia is a free-to-use site that makes money from advertising. We have a modified experience for viewers using ad blockers

Wikia is not accessible if you've made further modifications. Remove the custom ad blocker rule(s) and the page will load as expected.