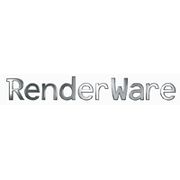 RenderWare (RW) is a computer and or video game middleware from Criterion Software.
Description
Edit
RenderWare is a 3D API (Application Programming Interface) and graphics rendering engine used in computer and console games such as Grand Theft Auto III and Grand Theft Auto: San Andreas, in MUVRS's such as Active Worlds, and some VRML (Virtual Reality Markup Language) browsers. RenderWare is developed by Criterion Software Ltd. (which used to be a wholly-owned subsidiary of Canon but is now owned by Electronic Arts).
Prior to versions 2.x, an external programming or scripting language had to be used to take advantage of RenderWare. RenderWare 2.x, on the other hand, has its own internal scripting language: RWX (RenderWare script).
RWX support was dropped from RenderWare 3.x, instead focusing on a binary model file format. RWX scripts are incompatible with RW3.x.
With RenderWare 4.x, Criterion is slated to drop support for RW3.x's formats, thereby making version 4.x incompatible with scripts/files from all previous versions.
RenderWare is available for use in Windows based PC applications, and many video game consoles such as PlayStation 2, GameCube, Xbox and PlayStation Portable.
Industry support
Edit
RenderWare is used throughout the video game industry. Some of the games using RW include: Grand Theft Auto III (PS2+PC+Xbox); Grand Theft Auto: San Andreas (PS2+Xbox+PC); Grand Theft Auto: Vice City (PS2+Xbox+PC); Black (PS2, Xbox); Bratz: Rock Angelz (PS2, PC); Burnout series; Call of Duty: Finest Hour, Mortal Kombat, Pro Evo Soccer 2; SpongeBob SquarePants: Battle for Bikini Bottom (PS2, GC, XBOX, PC), Sonic Heroes (PC,GAMECUBE,XBOX,PS2) and the Tony Hawk series.
External links
Edit
Ad blocker interference detected!
Wikia is a free-to-use site that makes money from advertising. We have a modified experience for viewers using ad blockers

Wikia is not accessible if you've made further modifications. Remove the custom ad blocker rule(s) and the page will load as expected.