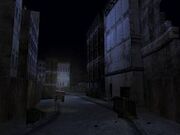 Carcer City is a large fictional city on the east coast of the USA. It is the setting of the Rockstar Games game Manhunt.
It is apparently located within close proximity of Liberty City, as various sources in the GTA games reference it as 'nearby'.
Ad blocker interference detected!
Wikia is a free-to-use site that makes money from advertising. We have a modified experience for viewers using ad blockers

Wikia is not accessible if you've made further modifications. Remove the custom ad blocker rule(s) and the page will load as expected.